Impact
1,300 homes and businesses damaged or destroyed during the tornado outbreak in Arlington, Lancaster, and Forney on April 3, 2012.
On May 27, 1997, an F5 tornado roared through the Double Creek Estates subdivision near the Central Texas town of Jarrell, killing 27 and destroying 38 homes and three businesses.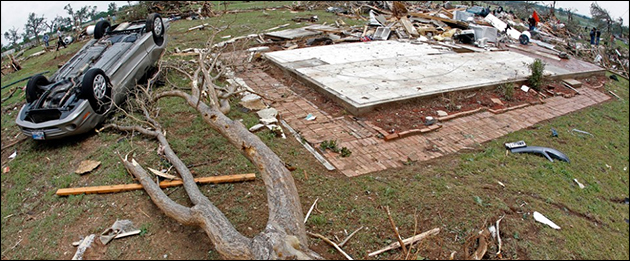 On April 10, 1979, huge F4 killed 42 people in Wichita Falls, caused over 1,700 injuries, destroyed over 3,000 homes and left 20,000 homeless.
The 1957 Mothers' Day tornado in Waco ranks as the deadliest tornado in Texas history, killing 114 and injuring 597. It destroyed 600 homes and other buildings and damaged more than 1,000, as well as 2,000 vehicles. Survivors had to wait up to 14 hours for rescue.