Impact
After making landfall at Rockport, Hurricane Harvey stalled along the Texas coast dumping more than 51 inches of rain in August 2017 - the most extreme rain event in U.S. history.
In 2015 the Blanco River rose more than 30 feet in 3 hours sweeping away homes and bridges as flood waters roared downstream, ultimately killing 10 people and causing $7 million in damages.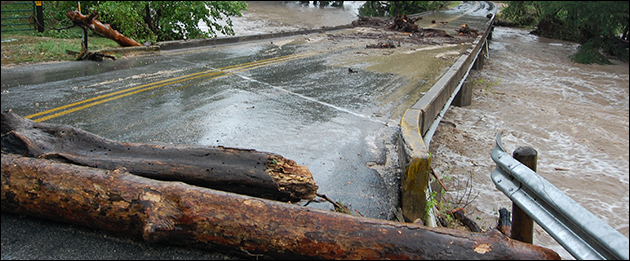 Tropical Storm Allison dropped more than 30-inches of rain in Houston over five days in June, 2001, killing 22 people, destroying 2,744 homes and causing $5 billion in total damages.
In 1998, flooding in Central Texas caused damage to 12,000 homes and 700 businesses, totaling $900 million.
Texas leads the nation in flood-related deaths and damage each year.  The United States Geological Survey (USGS) notes 41 catastrophic storms and floods and 215 major storms and floods in Texas from 1853 to September 2002.
.